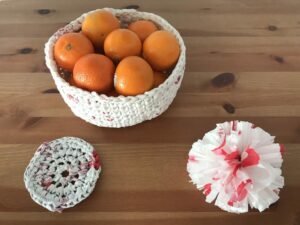 Plastic bags.  Everyone has a stash of them.  Turn yours into something beautiful!  Plastic grocery bags are not always recyclable. A better alternative is to upcycle them into stylish and practical items you can use around the home.
Join Cara Corey, a maker on a mission to lessen waste and have fun doing it.  She will teach students this fun skill to use again and again, as we all know there is an unlimited supply of materials!
You will learn how to turn plastic bags into "plarn" -plastic yarn-that you can crochet with, just like regular yarn. Experimentation is encouraged. You can create this simple storage basket during the class and use any extra time to work on other items. Plarn is great for dish scrubbers, bags, baskets, rugs and more.
Student to provide for class:
10 regular size or larger plastic bags. The larger the better!
Size J/10 crochet hooks
Online Class General Information:
Each registration is for one "device" (one computer, tablet, phone).  This is to ensure we don't have more people registered than the instructor is comfortable with having in a class.  Please be respectful of this guideline and purchase multiple class spots if more than one person from your household is interested in attending.

You will need a reliable Internet connection as well as a computer or device with which to access the online class.  Please arrive 10 minutes before class begins, to ensure your connection and device are ready when the class begins.  

If the class lists 'Materials Needed', you will want to purchase those materials and have them available as well

Each class will be held using Zoom technology.  You will receive a link and a password and information on how to log on,  prior to the class.  You will be able to view and ask questions during the class.
General Age Policy:
All classes are for adults (18+) unless otherwise noted.
Class Minimums:
Be aware we may cancel 5 days before class date if a minimum number of registrations not reached. We work to balance teachers' need to plan for a class with students' busy schedules -- not an easy task. Please register as early as possible!