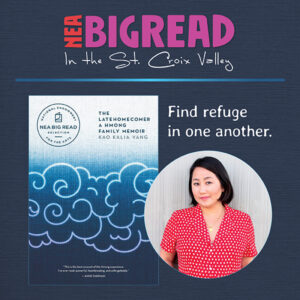 Minnesotan author Kao Kalia Yang's book 'The Latehomecomer' has been chosen as one of the national NEA Big Read recommended books this year!  ArtReach and other local organizations are offering a series of events as part of the Big Read program of the St. Croix Valley.  Marine Mills Folk School is excited to work with local teacher and embroidery artist Yee Yang to offer this beginning class on Paj Ntaub ('pa dau' – flower cloth), traditional embroidery.
Admired traditional Hmong embroidery for years, and wondered what the patterns and stories might mean?  This is the class for you!  This traditional needlework dates back several centuries.  Hmong Paj Ntaub (pa'dau) symbols are the language & knowledge system of the Hmong people …. they are the oral storytelling of the Hmong culture, practices, values, and traditions.  This skill of sewing paj ntaub and preserving the Hmong culture is still practiced today and in this class, you will get an opportunity to learn this skill and make your own paj ntaub!  
Join Yee as she guides you with beginning instruction on embroidery stitches as well as the design and sewing of your own creative paj ntaub work of art!  She'll also share some of the history and cultural traditions associated with this traditional skill. This class is primarily designed for adults, but teenagers who are interested to learn more of this cultural heritage embroidery skill will also enjoy the class.  
Pajntaub is a celebration of teamwork, hard work, dedication, and reflects Hmong family, and community – join Yee in this celebration of Hmong culture and learning!
Note: A Kit with class materials will be mailed to each student by the instructor.  The cost of the kit with shipping ($15) is included in the class registration fee.  Registration will close Friday, May 28, to ensure the kit is received in time for the class.
***(Note: our classes are online at this time via Zoom, not in person—a link will be sent prior to the class.)
Students will need the following, in order to fully participate in the class:
Kit, to be mailed prior to the class by Instructor

Reading glasses, if necessary

Scissors
Materials included in the Kit:
Needle

Thread

Plastic cross stitch canvas grid

Fabric Cross stitch 

Pajntaub visual pictures
Online Class General Information:
Each registration is for one "device" (one computer, tablet, phone).  This is to ensure we don't have more people registered than the instructor is comfortable with having in a class.  Please be respectful of this guideline and purchase multiple class spots if more than one person from your household is interested in attending.

You will need a reliable Internet connection as well as a computer or device with which to access the online class.  Please arrive 10 minutes before class begins, to ensure your connection and device are ready when the class begins.  

If the class lists 'Materials Needed', you will want to purchase those materials and have them available as well

Each class will be held using Zoom technology.  You will receive a link and a password and information on how to log on,  prior to the class.  You will be able to view and ask questions during the class.
General Age Policy:
All classes are for adults (18+) unless otherwise noted.
Class Minimums:
Be aware we may cancel 5 days before class date if a minimum number of registrations not reached. We work to balance teachers' need to plan for a class with students' busy schedules -- not an easy task. Please register as early as possible!