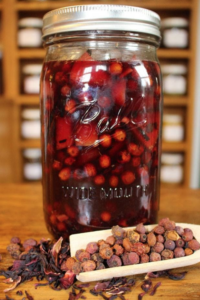 Join herbalist and health coach, Jaime Brennan, for a fun evening making your very own healthy and delicious cordial.
The Oxford English dictionary defines 'cordial' as another term for a liqueur or a comforting or pleasant-tasting medicine.  The term is also used to describe something as "warm and friendly – cordial".  We think you'll find this drink, and class, friendly, comforting and pleasant and we warmly invite you to spend an evening with fellow cordial makers!
You will spend time reviewing the benefits of Hawthorn, which is one of the best herbs for the emotional and physical heart, and then use dried hawthorn berries, brandy and other healthful ingredients to create the cordial.
Your Hawthorn Cordial will make a great after-dinner treat, as it also aids digestion.
A Kit will be mailed to each person registered for the class, the cost of mailing the kit is included in the class fee.  Important: if you want the kit to be mailed to an address other than your billing address, be sure to include the shipping address in the 'Order Notes' section when you register!
Materials students will need to have in-hand to fully participate:
Register by Saturday, March 27th to ensure your dried ingredients arrive in time for class

Materials Provided in Kit: All dried ingredients

Students to bring:

1 small organic apple

1 inch organic ginger

1 organic lemon 

1/3 cup unsweetened 100% pomegranate juice

1/2 cup raw honey

2 cups brandy

Quart canning jar with lid and ring

liquid measuring cup

zester

knife and cutting board

spatula
Online Class General Information:
Each registration is for one "device" (one computer, tablet, phone).  This is to ensure we don't have more people registered than the instructor is comfortable with having in a class.  Please be respectful of this guideline and purchase multiple class spots if more than one person from your household is interested in attending.

You will need a reliable Internet connection as well as a computer or device with which to access the online class.  Please arrive 10 minutes before class begins, to ensure your connection and device are ready when the class begins. 
General Age Policy:
All classes are for adults (18+) unless otherwise noted.
Class Minimums:
Be aware we may cancel 5 days before class date if a minimum number of registrations not reached. We work to balance teachers' need to plan for a class with students' busy schedules -- not an easy task. Please register as early as possible!