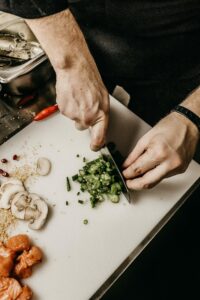 Spend an evening with Chef Michael Willenbring of Manger restaurant!  We're thrilled Michael was able to 'carve out' some time for us, sharing his skills and stories of how to, and how not to, correctly use knives in the kitchen.  
Michael will start with basic knife skills such as dicing and julienning vegetables, mincing garlic and shallots, creating chiffonade basil.  Each student will work along with the Chef at your own speed, in your own kitchen, getting tips as you go along.  Michael will then move into what he calls 'Chefy skills' (the technical term) such as how to create cross-hatched zucchini, how to trumpet mushrooms, how to supreme oranges, and more.  And here's a skill he thinks everyone needs for their next post-Covid celebration: how to properly shuck an oyster!  You'll learn these skills and more, as you share a delightful and informative evening with Chef Michael.  You're sure to increase your enjoyment of cooking through improved knife skills!
The Chef suggests you have the following available for the class: 
Chef's Knife (or whatever you have, does NOT need to be commercial quality to take this class!)

Paring Knife (or whatever you have, does NOT need to be commercial quality to take this class!)

Oyster Knife or Flat Head Screwdriver

Cutting Board

Towel for Cleanup
Very optional —  do not stress if you don't have these, Michael will discuss during the class:
Bread/Sandwich Knife

Slicing Knife

Boning Knife

Santoku / Petty Knife

Honing Steel
Online Class General Information:
Each registration is for one "device" (one computer, tablet, phone).  This is to ensure we don't have more people registered than the instructor is comfortable with having in a class.  Please be respectful of this guideline and purchase multiple class spots if more than one person from your household is interested in attending.

You will need a reliable Internet connection as well as a computer or device with which to access the online class.  Please arrive 10 minutes before class begins, to ensure your connection and device are ready when the class begins.  

Each class will be held using Zoom technology.  You will receive a link and a password and information on how to log on,  prior to the class.  You will be able to view and ask questions during the class.
General Age Policy:
All classes are for adults (18+) unless otherwise noted.
Class Minimums:
Be aware we may cancel 5 days before class date if a minimum number of registrations not reached. We work to balance teachers' need to plan for a class with students' busy schedules -- not an easy task. Please register as early as possible!