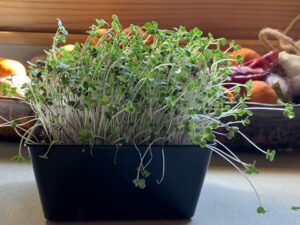 Enjoy hands-on learning and gain the confidence to grow your own food (even in small indoor spaces). This online class will include discussion and demonstrations of the planting techniques, plus there will be time to do planting at home and get answers to all your questions.  You will then have the satisfaction of harvesting your own food in just days! Enjoy some samples of microgreens and learn more about ways to incorporate them into your table and the nutritional benefits of these power packed greens.
The class fee includes the cost of a class kit with postage. Each participant will receive a kit that includes 4 easy to grow varieties of microgreens and we will be planting 2 varieties during the class.  All materials needed for this class will be in the kit.
Please note: Registration will close on November 14 in order to leave adequate time for your kit to arrive.  Don't wait, register early!
Materials students will need to have in-hand to fully participate: 
A kit will be mailed to each student with all the materials required.  There will be a $25 fee for the kit plus postage which is included in the price of this class.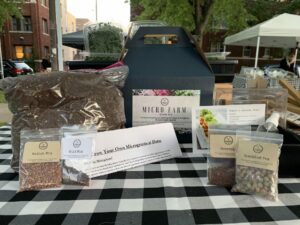 Online Class General Information:
Each registration is for one "device" (one computer, tablet, phone).  This is to ensure we don't have more people registered than the instructor is comfortable with having in a class.  Please be respectful of this guideline and purchase multiple class spots if more than one person from your household is interested in attending.

You will need a reliable Internet connection as well as a computer or device with which to access the online class.  Please arrive 10 minutes before class begins, to ensure your connection and device are ready when the class begins.  

If the class lists 'Materials Needed', you will want to purchase those materials and have them available as well

Each class will be held using Zoom technology.  You will receive a link and a password and information on how to log on,  prior to the class.  You will be able to view and ask questions during the class.
General Age Policy:
All classes are for adults (18+) unless otherwise noted.
Class Minimums:
Be aware we may cancel 5 days before class date if a minimum number of registrations not reached. We work to balance teachers' need to plan for a class with students' busy schedules -- not an easy task. Please register as early as possible!