Fire and Ice: The Geologic Story of Lake Superior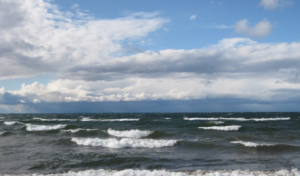 This webinar will feature a Powerpoint presentation that tells the geological story of how Lake Superior was created – a story that can be restated as a dramatic tale of Fire and Ice. 
The Fire part of the story describes an intense period of volcanic activity related to a failed attempt of the North America continent to break apart about 1.1 billion years ago. 
The ice story relates the "geologically recent" excavation of the Lake Superior basin by the repeated advance and retreat of mile-thick continental glaciers over the past two million years. 
The last glaciers melted away only 10,000 years ago.
Join Jim Miller, retired professor from the University of Minnesota, as we welcome him back for another evening of exploration and discussion. See you soon!  We recommend you register early for this class, to ensure you can attend.
Materials students will need to have on-hand to fully participate:
Pen and paper to take notes
Questions!
Online Class General Information:
Each registration is for one "device" (one computer, tablet, phone).  This is to ensure we don't have more people registered than the instructor is comfortable with having in a class.  Please be respectful of this guideline and purchase multiple class spots if more than one person from your household is interested in attending.

You will need a reliable Internet connection as well as a computer or device with which to access the online class.  Please arrive 10 minutes before class begins, to ensure your connection and device are ready when the class begins.  

Each class will be held using Zoom technology.  You will receive a link and a password and information on how to log on prior to the class.  You will be able to view and ask questions during the class.
General Age Policy:
All classes are for adults (18+) unless otherwise noted.
Class Minimums:
Be aware we may cancel 5 days before class date if a minimum number of registrations not reached. We work to balance teachers' need to plan for a class with students' busy schedules -- not an easy task. Please register as early as possible!