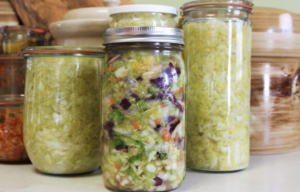 Curious about making your own fermented veggies at home?
Join us for a hands-on vegetable fermentation class from the comfort of your own home kitchen.
Students will learn about the basic history and benefits of fermentation, the two common methods used in vegetable fermentation (dry-salting and brining), food safety, supplies needed and troubleshooting.
Students will chop, salt, and mix their very own batches of raw, probiotic-rich sauerkraut, plus make a jar of garlicky fermented carrot pickles.
Our instructor is a local cookbook author and Certified Master Food Preserver, Stephanie Thurow.  Previous students loved her class, you will, too!
"Stephanie….. was knowledgeable, positive and fun!" Student, February 2020
"…easy to follow, fun….she was perfect!"  Student, February 2020
Materials students will need to have on-hand to fully participate:
Cutting board
Knife for shredding cabbage
Large non-reactive bowl or pot (glass or stainless steel)
Measuring cups and measuring spoons
Kosher salt
Mason jars (or WECK jars) with lids in quart and pint sizes
Green cabbage
Water
Online Class General Information:
Each registration is for one "device" (one computer, tablet, phone).  This is to ensure we don't have more people registered than the instructor is comfortable with having in a class.  Please be respectful of this guideline and purchase multiple class spots if more than one person from your household is interested in attending.

You will need a reliable Internet connection as well as a computer or device with which to access the online class.  Please arrive 10 minutes before class begins, to ensure your connection and device are ready when the class begins.  

If the class lists 'Materials Needed', you will want to purchase those materials and have them available as well

Each class will be held using Zoom technology.  You will receive a link and a password and information on how to log on,  prior to the class.  You will be able to view and ask questions during the class.
General Age Policy:
All classes are for adults (18+) unless otherwise noted.
Class Minimums:
Be aware we may cancel 5 days before class date if a minimum number of registrations not reached. We work to balance teachers' need to plan for a class with students' busy schedules -- not an easy task. Please register as early as possible!