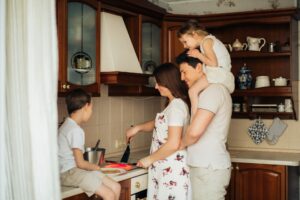 Now is your chance to take a class together with the whole family!
Cook along with Chef Maggie for an easy brunch class that the kids can help make!
Learn four easy recipes that kids can make (with adult supervision) and are sure to make them proud of their achievements in the kitchen.
This would make a great menu for Mother's Day, Father's Day or any other special occasion.  An adult is required to be present and participating during the class.
All ages welcome. Fee includes everyone in the household!
On the Menu: Blender Oatmeal Pancakes or Waffles; Cheesy Spinach Frittata (with vegan option); Crispy Smashed Potatoes; Strawberry Pina Colada Smoothie
*All recipes are vegetarian and gluten free.
(Note: our classes are online at this time via Zoom, not in person—a link will be sent prior to the class.)
Materials students will need to have in-hand to fully participate:
Chef Maggie will send a list of items needed to all participants a few days before class.
Online Class General Information:
Each registration is for one "device" (one computer, tablet, phone).  This is to ensure we don't have more people registered than the instructor is comfortable with having in a class.  Please be respectful of this guideline and purchase multiple class spots if more than one person from your household is interested in attending.

You will need a reliable Internet connection as well as a computer or device with which to access the online class.  Please arrive 10 minutes before class begins, to ensure your connection and device are ready when the class begins.  

If the class lists 'Materials Needed', you will want to purchase those materials and have them available as well

Each class will be held using Zoom technology.  You will receive a link and a password and information on how to log on,  prior to the class.  You will be able to view and ask questions during the class.
General Age Policy:
All classes are for adults (18+) unless otherwise noted.
Class Minimums:
Be aware we may cancel 5 days before class date if a minimum number of registrations not reached. We work to balance teachers' need to plan for a class with students' busy schedules -- not an easy task. Please register as early as possible!