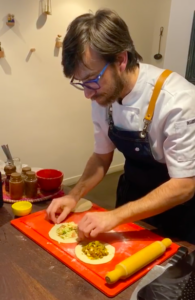 Want to learn how to make Argentinian street food?  From an entertaining professional chef  'beaming in' from Buenos Aires?  We thought you would!
We are privileged to offer a class by Chef Manu live and direct from Buenos Aires, Wednesday, January 27th at 6:30 pm.
In this amazing class you will learn how to make empanadas, the most iconic pie of South America, particularly Argentina, in this live streaming cooking class!
Did we mentioned this class will be streamed LIVE directly from Argentina!   This is an opportunity to connect to another culture and to other adventurous fellow cooks and virtual travelers, from your own home.
In this online cooking class, we will  make the typical Argentinian empanada dough from scratch, and then prepare two different fillings for the homemade empanadas.
The two empanadas fillings include:
Beef filling (as it is prepared in Buenos Aires)
Cheese-based vegetarian filling or vegan (seasonal)
You will also learn how to make the traditional Llauja, a spicy sauce that comes along with the empanadas.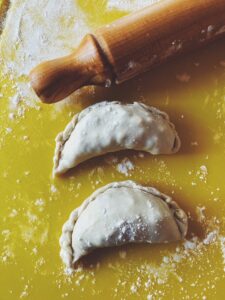 Click on this link below to be taken to the list of materials students will need to have in-hand to fully participate:
Empanadas class Ingredients + Directions
Online Class General Information:
Each registration is for one "device" (one computer, tablet, phone).  This is to ensure we don't have more people registered than the instructor is comfortable with having in a class.  Please be respectful of this guideline and purchase multiple class spots if more than one person from your household is interested in attending.

You will need a reliable Internet connection as well as a computer or device with which to access the online class.  Please arrive 10 minutes before class begins, to ensure your connection and device are ready when the class begins.  

If the class lists 'Materials Needed', you will want to purchase those materials and have them available as well

Each class will be held using Zoom technology.  You will receive a link and a password and information on how to log on,  prior to the class.  You will be able to view and ask questions during the class.
General Age Policy:
All classes are for adults (18+) unless otherwise noted.
Class Minimums:
Be aware we may cancel 5 days before class date if a minimum number of registrations not reached. We work to balance teachers' need to plan for a class with students' busy schedules -- not an easy task. Please register as early as possible!