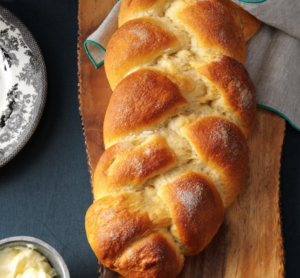 Think back — do you have a memory of that delicious cardamom smell while your gramma was making Christmas Breads?  Or perhaps using cardamom spice was not part of your heritage, but you've always been curious about how to incorporate this interesting spice in your own baking. Want to start your own traditions during the upcoming holidays?
Join Master Baker Bryce Johnson and his son Brennan as they share holiday good cheer while teaching you how to do just that.
This is a hands-on class.  Using dough that will need to be made ahead of the class, students will follow along with Bryce and Brennan to make a variety of goodies: braided bread, rolls and a tea ring.  There will be plenty of time for questions about what Bryce and Brennan demonstrate during the class, as well as any other questions you might have about baking bread and rolls.
***Students will make this bread dough ahead of class time***
This dough recipe can be made the night before class and stored in the refrigerator or in the morning  before the class. Please click the link below to be taken to the recipe.
Cardamom Dough for Bread and Rolls 12.19.20
Student Supply List (to be provided by the student and available at the time of the class):
Batch of Dough:  to be made ahead of time by student, recipe can be found using link above
Tools:
Cup measures and/or scale
Tablespoon and teaspoons
Mixing bowls
Dough scraper or spatula
Bench knife and/or serrated knife
Pastry brush
Bread pan (about 9" X 5")
Oil spray or light oil
9′ X 13′ in. baking pan
Baking sheet
Parchment paper (if handy)
Dish towel (cotton or linen; not terry cloth)
Online Class General Information:
Each registration is for one "device" (one computer, tablet, phone). This is to ensure we don't have more students registered than the instructor is comfortable with having in a class.  Please be respectful of this guideline and purchase multiple class spots if more than one person from your household is interested in attending.
You will need a reliable Internet connection as well as a computer or device with which to access the online class. Please arrive 10 minutes before class begins, to ensure your connection and device are ready when the class begins.
If the class lists 'Materials Needed', you will want to purchase those materials and have them available as well
Each class will be held using Zoom technology. You will receive a link and a password and information on how to log on,  prior to the class.  You will be able to view and ask questions during the class.
General Age Policy:
All classes are for adults (18+) unless otherwise noted.
Class Minimums:
Be aware we may cancel 5 days before class date if a minimum number of registrations not reached. We work to balance teachers' need to plan for a class with students' busy schedules -- not an easy task. Please register as early as possible!