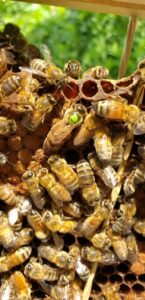 Now is the time to start thinking about bees!  Tom Minser, owner of Nature's Nectar is here to help you get started in Beekeeping. 
You do not need to have prior beekeeping experience. 
This discussion class will review what items you will need to start beekeeping and strategies for keeping your bees healthy and successful.  Tom has been raising bees for many years and is just the fellow you want to connect with, if you are considering jumping in to beekeeping. 
 Discussion topics will include:
Purchasing equipment and bees

Hiving packages

Management practices

Honey production

How to overwinter your bees

Overview of the Varroa mite and how to treat for them.
Students will need the following, in order to fully participate in the class:
Pen and Paper to take notes
Lots of questions
Online Class General Information:
Each registration is for one "device" (one computer, tablet, phone).  This is to ensure we don't have more people registered than the instructor is comfortable with having in a class.  Please be respectful of this guideline and purchase multiple class spots if more than one person from your household is interested in attending.

You will need a reliable Internet connection as well as a computer or device with which to access the online class.  Please arrive 10 minutes before class begins, to ensure your connection and device are ready when the class begins.  

Each class will be held using Zoom technology.  You will receive a link and a password and information on how to log on,  prior to the class.  You will be able to view and ask questions during the class.
General Age Policy:
All classes are for adults (18+) unless otherwise noted.
Class Minimums:
Be aware we may cancel 5 days before class date if a minimum number of registrations not reached. We work to balance teachers' need to plan for a class with students' busy schedules -- not an easy task. Please register as early as possible!