Online: Acrylic Painting; Fast and Loose Landscapes with Emily Anderson
Details
Date & Time: March 6, 2021 @ 10:00 am - 12:30 pm
|
Recurring Event
(See all)
One event on March 13, 2021 at 10:00 am
Class Fee: $57.00
Class fee includes cost of material for this class, if provided.
Skill Level: Any
This is a two session class, March 6 at 10:00 am and March 13 at 10:00 am.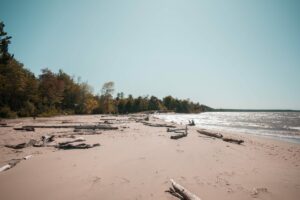 Do you wish you could sit down and paint a beautiful scene, but find that you are uncertain of how to begin?  Certain you'll screw something up, so no point in even trying?
If you want to learn how to set fear aside and experience the joy of putting paint onto canvas in a loose approach, creating a fresher and more intuitive painting, this is the class for you.  And Emily Anderson is the guide to support you in your journey!
In this class we will each paint two paintings, one a demo from a photograph that we will work on together, and the second one is a scene of your choice that you will paint on your own for homework. 
Emily will walk students step-by-step through how to create a successful landscape painting- from composition to color mixing.  She will work with you to create your first demo and provide individual guidance as needed.
Students will love this encouraging class and will be excited to continue painting at home.
Materials students will need to have in-hand to fully participate:
***Below are the supplies Emily recommends, but advises you to use what you have if you already have supplies at home.
At a minimum you will need paints, brushes, a disposable mixing pad and the Sta-Wet palette. 
Acrylic Paints– You don't have to have exactly what I have, and you should feel encouraged to use what you have. I like Golden brand acrylics, but any brand is fine. You want to make sure to purchase regular heavy body acrylics, not liquid or "open." Keep in mind that professional paints have more pigment than student grade, allowing for richer colors. Below are the main colors on my palette:
Titanium White
Cadmium Red Medium
Payne's Gray
Chromium Oxide Green
Burnt Umber
Teal
Cobalt Blue
Brushes/Knife
Synthetic Brushes- use what you have. I like brights- #4, #6, #8 are good sizes. I prefer the long handle brushes- they help to make your painting looser.
Palette/painting knife- any kind will work, we will be using the knife to load your palette. I find that the palette knife with a tapered tip is the most versatile.
Palettes
Large Disposable Paper Palette 12×16 or larger
Sta-Wet Premier Palette- buy the red top palette- it has the sponge and special paper you will need. This will keep your paint from drying out, and makes for a much less frustrating time with your paints.
 Other
Willow or vine charcoal
A minimum of 2- 11×14" canvases or panels
If you are a brand new painter and don't have any supplies, this link will get you most of everything you need and would be a good place to start.
Online Class General Information:
Each registration is for one "device" (one computer, tablet, phone).  This is to ensure we don't have more people registered than the instructor is comfortable with having in a class.  Please be respectful of this guideline and purchase multiple class spots if more than one person from your household is interested in attending.

You will need a reliable Internet connection as well as a computer or device with which to access the online class.  Please arrive 10 minutes before class begins, to ensure your connection and device are ready when the class begins.  

Each class will be held using Zoom technology.  You will receive a link and a password and information on how to log on,  prior to the class.  You will be able to view and ask questions during the class.
General Age Policy:
All classes are for adults (18+) unless otherwise noted.
Class Minimums:
Be aware we may cancel 5 days before class date if a minimum number of registrations not reached. We work to balance teachers' need to plan for a class with students' busy schedules -- not an easy task. Please register as early as possible!