Needle felting is fun!  Learn to transform hand-dyed wool from the instructor's own flock of sheep into your very own adorable loon. 
We will mail you the materials ahead of time, then Laura will take you step-by-step through the process via Zoom.  No previous experience is necessary.  The materials kit comes with enough wool to make two loons, so you can perfect your technique on the second one after class.  All you need to complete the project is a work surface like a sturdy table, good light, and a pair of scissors.  Everything else is included! 
Experience the magic of needle felting or learn some new tips to add to your growing skillset.  During these trying time, needle felting can feel especially therapeutic, as we repeatedly stab the wool with our barbed needles while creating a cute,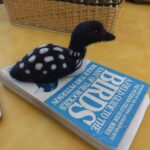 wooly friend in the process.  Join us for this welcoming online Sunday afternoon class!
Class Specific Requirements:
The cost of this online class includes a material fee of $40 which included materials and shipping
Class registrations will be closed as of Friday, October 2 to allow time for class supplies to be mailed to each registered student
Online Class General Information:
Each registration is for one "device" (one computer, tablet, phone). This is to ensure we don't have more students registered than the instructor is comfortable with having in a class.  Please be respectful of this guideline and purchase multiple class spots if more than one person from your household is interested in attending.
You will need a reliable Internet connection as well as a computer or device with which to access the online class. Please arrive 10 minutes before class begins, to ensure your connection and device are ready when the class begins.
If the class lists 'Materials Needed', you will want to purchase those materials and have them available as well
Each class will be held using Zoom technology. You will receive a link and a password and information on how to log on,  prior to the class.  You will be able to view and ask questions during the class.
General Age Policy:
All classes are for adults (18+) unless otherwise noted.
Class Minimums:
Be aware we may cancel 5 days before class date if a minimum number of registrations not reached. We work to balance teachers' need to plan for a class with students' busy schedules -- not an easy task. Please register as early as possible!