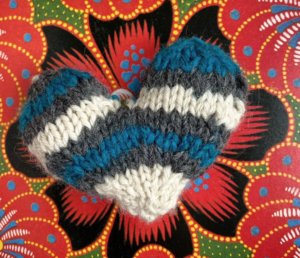 Heard of Quarantine Creativity?  Yes that is a thing.  Some of us have found sourdough, some found regular walking outside, with perhaps even a bike ride in between.  And some of us have found or rediscovered Knitting!
Mark Chilefone, a Minnesota knitter, found knitting hearts was becoming more and more important to him.  Another Minnesotan, Jenn O'Brien, turned to knitting in 2016 to help her process what was happening in national and local politics.  This is a story of how two people who approached knitting for very different reasons, stumbled across each other, appreciated each other's craft, and decided to offer a class together to invite others to join the discussion and the knitting community.  Mark and Jenn will share how knitting has helped them, and how knitting can be used as a community builder to pull people together.
Knitters can be beginners to advanced knitters with a good understanding of knitting and purling, increasing by knit front and back (kfb) and decreasing by knitting 2 together (k2tog) and slip, slip, knit (ssk).  
In this class we will explore why you like to knit, how knitting is a community builder and a conversation starter along with how you can turn what you make into a HeartFelt gift for others. The purpose of this class is to create an online knitting opportunity that will be stress free, meet new people  and to encourage lively discussion while learning something new or practicing what you already know.  All are welcome.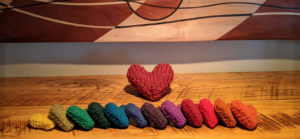 Materials students will need to have in-hand to fully participate:
Heart knitting pattern provided by MMFS

Knitting needles in a size that is good for the size of your yarn

Any size yarn(fingering, DK, worsted, bulky)  Scraps work really well

Reading glasses and good light

Questions and willingness to join in the conversation
Online Class General Information:
Each registration is for one "device" (one computer, tablet, phone).  This is to ensure we don't have more people registered than the instructor is comfortable with having in a class.  Please be respectful of this guideline and purchase multiple class spots if more than one person from your household is interested in attending.

You will need a reliable Internet connection as well as a computer or device with which to access the online class.  Please arrive 10 minutes before class begins, to ensure your connection and device are ready when the class begins.  

If the class lists 'Materials Needed', you will want to purchase those materials and have them available as well

Each class will be held using Zoom technology.  You will receive a link and a password and information on how to log on,  prior to the class.  You will be able to view and ask questions during the class.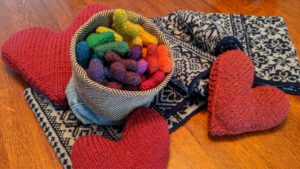 General Age Policy:
All classes are for adults (18+) unless otherwise noted.
Class Minimums:
Be aware we may cancel 5 days before class date if a minimum number of registrations not reached. We work to balance teachers' need to plan for a class with students' busy schedules -- not an easy task. Please register as early as possible!