This class is designed as a follow-up to 'Introductory Nålbinding' with Janet Ames. Those Vikings never did anything easily, and Nålbinding is no exception – it's hard to do! Janet is offering a day of guidance to give beginning students more time to practice their new craft, ask questions, and share the frustration and rewards of learning a new skill with other beginning students.
You've learned the basic stitch of Nålbinding using interlocking loops. This class will focus on continuing the construction of your previous project, whether a warm cowl or hand warmers or other project such as the sweater that one ambitious beginner threatened to make!
We hope you can take advantage of this class to further embed the Nålbinding technique into your knitting repertoire.
Students to bring:
 One skein of bulky SINGLE-PLY yarn (100% wool) i.e. Lamb's Pride Bulky 125yds, Noro Hitsuji 110 yds, Alafoss Lopi 109 yds
Beautiful student work!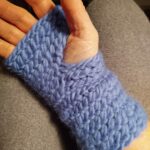 General Age Policy:
All classes are for adults (18+) unless otherwise noted.
Class Minimums:
Be aware we may cancel 5 days before class date if a minimum number of registrations not reached. We work to balance teachers' need to plan for a class with students' busy schedules -- not an easy task. Please register as early as possible!