Learn how to create beautiful botanical prints on paper from leaves and flowers. 
Eco prints are a form of monoprint or direct contact print. Heat and pressure are used to extract pigments and tannins from fresh or dried plant material and transfer them to paper or fabric. No paints or inks are used in the process, unless you choose to embellish your prints later. The finished printed papers can be turned into journals and cards, incorporated into mixed media art, or framed.  These techniques can be used in the future for fabric printing.
We will prepare and stack papers and plants together during a live Zoom session, and go over how to steam or simmer your bundles on your own.  We will also schedule a second session about a week later, to share results and learn how to create a simple binding to make journals or cards from your prints.
Supplies provided by instructor 1 week before class (will be mailed to student):
2 mordant packets (alum and iron powder) – mailed to the student

A list of leaves known to be reliable printers – but please experiment with others!
Student Supply List (to be provided by the student and available at the time of the class):
A pot with a lid (approximately 10.5″ min) large enough to simmer your paper bundle lying flat.

Use an old pot that you don't need for cooking. (2nd hand stores are good resources if you don't have one.)

2 -4 tiles approximately 6″ square and strong string or twine to hold your paper bundles.

Paper: Try a variety, but be sure to include some watercolor paper. 

2 soaking trays: dish pans, disposable aluminum roasting trays, etc.  Plus old spoons, disposable chopsticks or sticks to stir.

Leaves: fresh or dried. Pressed flowers – if not too thick – can also work. Experiment, but include some of the more reliable printers from list provided by instructor.

gloves, scissors, garden snippers, pencil to mark papers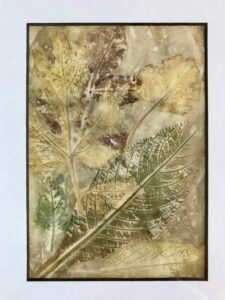 Online Class General Information:
Each registration is for one "device" (one computer, tablet, phone). This is to ensure we don't have more students registered than the instructor is comfortable with having in a class.  Please be respectful of this guideline and purchase multiple class spots if more than one person from your household is interested in attending.
You will need a reliable Internet connection as well as a computer or device with which to access the online class. Please arrive 10 minutes before class begins, to ensure your connection and device are ready when the class begins.
If the class lists 'Materials Needed', you will want to purchase those materials and have them available as well
Each class will be held using Zoom technology. You will receive a link and a password and information on how to log on,  prior to the class.  You will be able to view and ask questions during the class.
General Age Policy:
All classes are for adults (18+) unless otherwise noted.
Class Minimums:
Be aware we may cancel 5 days before class date if a minimum number of registrations not reached. We work to balance teachers' need to plan for a class with students' busy schedules -- not an easy task. Please register as early as possible!