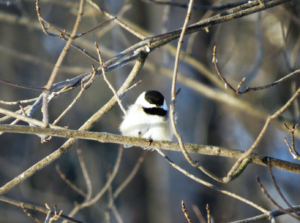 Want to make your backyard more songbird friendly?  Explore how to attract and welcome beautiful birds to your yard.  Learn how best to provide food and water, how to ensure they have places to hide from predators, and what native plant landscaping might make your yard irresistible to these singing visitors.
We'll discuss bird feed/seed, feeders, bird baths, trees (living and dead), shrubs, perennials, and the importance of providing shelter from predators and the elements.
Our instructor, Cathy Olyphant, is a life-long birder and as a member of the board of directors for the St. Croix Valley Bird Club, she coordinates all their programming.  Cathy is excited to share her knowledge and passion to help you design a more bird-friendly habitat. However small or large your yard is, you'll leave the class with ideas of how to make it more inviting to the birds.
Given this is a winter class, we'll focus more on your winter backyard and the winter birds that visit it.
Suggestions will be included for tweaks you can make to your selection of feeders to attract the spring migrants.  The class will have plenty of time for questions, be sure to bring your habitat and birding questions for Cathy!
Materials students will need to have on-hand to fully participate: 
Pen and paper to take notes.
Questions!
One thing the instructor recommends is Douglas Tallamy's book, "Bringing Nature Home". It's certainly not required, but might be of interest to people as a resource for the future.
Online Class General Information:
Each registration is for one "device" (one computer, tablet, phone).  This is to ensure we don't have more people registered than the instructor is comfortable with having in a class.  Please be respectful of this guideline and purchase multiple class spots if more than one person from your household is interested in attending.

You will need a reliable Internet connection as well as a computer or device with which to access the online class.  Please arrive 10 minutes before class begins, to ensure your connection and device are ready when the class begins.  

Each class will be held using Zoom technology.  You will receive a link and a password and information on how to log on,  prior to the class.  You will be able to view and ask questions during the class.
General Age Policy:
All classes are for adults (18+) unless otherwise noted.
Class Minimums:
Be aware we may cancel 5 days before class date if a minimum number of registrations not reached. We work to balance teachers' need to plan for a class with students' busy schedules -- not an easy task. Please register as early as possible!