Alcohol inks are a vibrant, dye-based medium that work best on non-porous surfaces such as glass, Yupo paper, metal, and more! However, did you know that you can also apply alcohol inks to canvas? You can, and they look wonderful!
This intriguing medium has recently gained popularity over the last few years. You may have heard about alcohol ink, but what actually is it!? Alcohol inks are fast-drying, highly pigmented, alcohol-based inks that are great to use on any hard, non-porous surface including glass, metal, plastic, ceramic, stone, leather and polymer clay. Once the ink is applied, the alcohol evaporates, leaving the dye behind. Once alcohol ink dries, it can be re-wet with rubbing alcohol (91% Isopropyl Alcohol), allowing for unique and versatile effects that cannot be achieved with water-based products like acrylic paint. Alcohol ink is waterproof, adding to its durable properties.
Experienced instructor Briana Goetzen brings gentleness, a sense of calm, and a never-ending enthusiasm for the arts wherever she goes.  Students are invited  to create their own alcohol ink abstract masterpiece on 10×10 inch canvas.  A beautiful gift of color to brighten your day or give as a unique gift.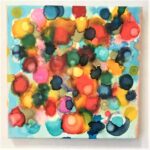 Students to bring: An apron or wear paint clothes, nitrile gloves, if you have them
Caution: Alcohol inks do have a strong smell (rubbing alcohol)
General Age Policy:
All classes are for adults (18+) unless otherwise noted.
Class Minimums:
Be aware we may cancel 5 days before class date if a minimum number of registrations not reached. We work to balance teachers' need to plan for a class with students' busy schedules -- not an easy task. Please register as early as possible!