Online: Travel Sketching Anywhere, Anytime
Details
Date & Time: March 20, 2021 @ 9:00 am - 10:30 am
|
Recurring Event
(See all)
One event on March 27, 2021 at 9:00 am
One event on April 3, 2021 at 9:00 am
Class Fee: $47.00
Class fee includes cost of material for this class, if provided.
Skill Level: Any
Due to popular demand, Jim Lammers is back with another sketching class!  Please Note:  This is a 3-session class for one price.
Dreaming of when we can begin traveling again, after the pandemic?  Always wanted to learn to sketch?  This is the perfect time to learn to draw and get more out of traveling!  'Moment sketching' is capturing the moment, expressing how you feel about what you are observing and sketching.  It's an ideal skill for traveling, as it will help you become more observant and expand your traveling experience.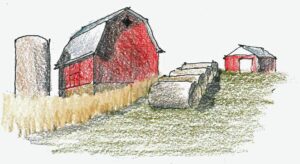 A wise man once said the only way to learn how to sketch, is to sketch!   This class will introduce drawing and design concepts (line, shape, value, perspective, shade, shadow, composition) in a supportive atmosphere. The idea is to do a rough sketch that is not overly detailed, to simply observe and then sketch.  Don't pressure yourself to be accurate (accuracy is for cameras) but rather to get into a rhythm and sketch from the right side of your brain. We'll use the interesting architecture of local buildings in Marine as the subject of our beginning drawings.  
Jim Lammers is an experienced sketcher and talented instructor, having taught for many years at the University of Minnesota and University of Iowa.  His fun and supportive approach to sketching will help all students get past their worries about being a beginner and doing something wrong, as they gain confidence and skills.
The first of the 3 sessions  will be spent online, learning basic concepts.  The second online session will be a review from the first class plus move into more advanced concepts.  And the third online class will put those skills to work, drawing from an image of buildings that will be provided by the instructor. Each class will include demonstration time, as well as time for the students to practice their new skills and ask questions of the instructor.  Those with some drawing experience who are looking to get back into drawing are also invited to join the class.  
The dates for this 3 session class are:
Saturday, March 20
Saturday, March 27
Saturday, April 3
Taken a class from Jim previously, or interested to advance your sketching skills further?  This class is for you!  Another opportunity to learn from Jim and practice your new skill.
Student Supply List (to be provided by the student and available at the time of the class):
2B and 4B pencils

 Eraser

Sketch pad (from 4X6 to 9X12)
Online Class General Information:
Each registration is for one "device" (one computer, tablet, phone). This is to ensure we don't have more students registered than the instructor is comfortable with having in a class.  Please be respectful of this guideline and purchase multiple class spots if more than one person from your household is interested in attending.
You will need a reliable Internet connection as well as a computer or device with which to access the online class. Please arrive 10 minutes before class begins, to ensure your connection and device are ready when the class begins.
If the class lists 'Materials Needed', you will want to purchase those materials and have them available as well
Each class will be held using Zoom technology. You will receive a link and a password and information on how to log on,  prior to the class.  You will be able to view and ask questions during the class.
General Age Policy:
All classes are for adults (18+) unless otherwise noted.
Class Minimums:
Be aware we may cancel 5 days before class date if a minimum number of registrations not reached. We work to balance teachers' need to plan for a class with students' busy schedules -- not an easy task. Please register as early as possible!