Marine Mills Folk School is 1 year old and we're throwing a party for the entire community!  Please join us for a day of celebration! All are invited to stop in and visit!  Meet a few of our instructors, see class demos and tour our new location at Marine Elementary School.
Families are encouraged to bring kids. We will have live music,  a bouncy house, games, hot dogs, watermelon, lemonade, and treats!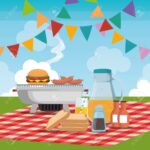 No need to register or RSVP – just bring your smiling face and have a good time!
WHEN:   Saturday, October 12,  10am – 3pm
WHERE:  Marine Elementary School, 550 Pine St., Marine on St. Croix, MN 55047
General Age Policy:
All classes are for adults (18+) unless otherwise noted.
Class Minimums:
Be aware we may cancel 5 days before class date if a minimum number of registrations not reached. We work to balance teachers' need to plan for a class with students' busy schedules -- not an easy task. Please register as early as possible!