Intergenerational Halloween Origami (In-Person) October 22, 2022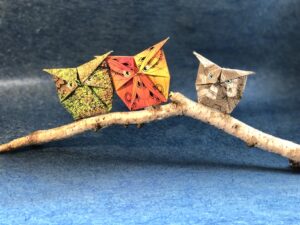 Instructor:  Kathleen Sheridan
Date & Time:   October 22, 2022 @ 10:00 am - 12:30 pm
Total Cost:  $55
Skill Level:   No Experience Needed
The Japanese art of paper folding, known as Origami, is beautiful, inspiring, and useful. It also boasts the benefits of increased dexterity, memory, and relaxation. Join Kathleen of 'Origami and You' for hours of origami fun. You will be amazed at what you can do with a piece of paper! 
In this intergenerational class, we encourage adults to bring a special young person (child, grandchild, friend, 6 years or older). Projects will be amended for younger children. *Children must be registered with an adult registrant.*

The class is open to all adults, with or without children.

In this fall-themed class you will make:
- A variety of leaves
- A bat that flaps its wings
- A 3D pumpkin that is great by itself or can be a placecard or treat holder
- An owl on a branch
The kit will include all materials needed for class as well as instructions to reference in order to repeat the models at home.
Students to bring:


Water/snacks, as there are no food facilities at the school.
Cost Details:
Adult (16 and older): $45
Children (6-16): $10
Material Fee: $10
NOTE:   Be aware we may cancel class if a minimum number of registrations is not reached. We work to balance teachers' need to plan for a class with students' busy schedules — not an easy task. Please register as early as possible!