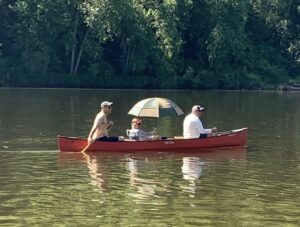 EVENT:  Third Annual Paddle Rendezvous
Date & Time:   August 27, 2022 @ 10:00 am - 2:30 pm
Class Fee: FREE - Just bring a canoe and paddle!

Location:  We put in the river at the Osceola Landing and end at The Landing in Marine.  Great fun.
Calling all Wooden Paddle Builders!
Join us for a paddle on the St. Croix River from Osceola to Marine on St. Croix.  Join MMFS for a beautiful 2-3 hour paddle, ending at the Marine Landing restaurant for a celebratory snack.  Then grab a shuttle back to your car.
Any time on the river makes it a good day!
Grab a canoe and a friend and head to Osceola on Saturday, August 27 from 10 am to 2pm.
Don't have a wooden paddle – we'd still love to have you join us and enjoy the river.
For more info, call 612-314-6374 and leave a message OR email info@marinemillsfolkschool.org