Flour as Flavor: Pastries with Whole Grains (In-Person)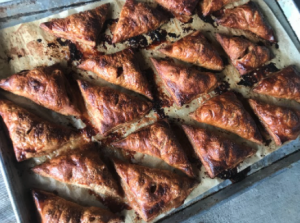 Instructor:  Brennan Johnson
Date & Time:   August 13, 2022 @ 10:00 am - 1:30 pm
Total Cost:  $65
Skill Level:   No Experience Needed
NOTE:   Be aware we may cancel class if a minimum number of registrations is not reached. We work to balance teachers' need to plan for a class with students' busy schedules — not an easy task. Please register as early as possible!
Different flours have their own nuanced and complex flavors to offer. Since the onset of industrial scale milling of grain, the taste of most widely distributed flour has been neutral to bland, a blank canvas used to develop structure or showcase other flavors. In this one day class, we will look back towards an older, and now re-emerging, idea in baking: that different flours have their own nuanced and complex flavors to offer.
In this class, using locally grown and milled whole grains, we will make puff pastry and shortbreads that explore the different flavors and textures of a variety of various wheats, as well as rye, buckwheat, and more.
Guided by instructor Brennan Johnson, students will have the chance to make pastries with flours of their own choosing, as well as decide on which additions and toppings to pair with their doughs. Pastries will be plentiful, and can be sampled at the end of class and taken home for later enjoyment.
Not a 'half-baked' idea -- join Brennan for this informative, fun, and yummy class!
Location Details
Class will be held in the kitchen of the Christ Lutheran Church, 150 5th St. Marine on St. Croix, Minnesota 55047
Cost Details
Tuition: $55
Materials Fee: $10