Intergenerational Pysanky-Ukrainian Eggs Decoration (In-Person)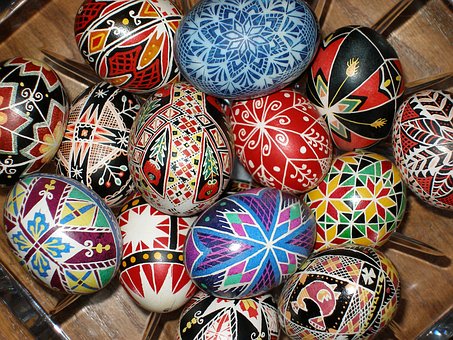 Instructor:   Laurelei Creuzer
Date & Time:   March 12, 2022 @ 9:00 am - 3:00 pm
Total Cost:  $65.00
Skill Level:   No Experience Needed
NOTE:   Be aware we may cancel class if a minimum number of registrations is not reached. We work to balance teachers' need to plan for a class with students' busy schedules — not an easy task. Please register as early as possible!
Now kids (age 12+) are FREE, when accompanied by a registered adult.  
It is time to learn the art of making Pysanky – Ukrainian decorated eggs!  Using beeswax and dyes applied in layers, students will create amazing, beautiful eggs, perfect for special gifts or ornaments.  Just think how happy your friends and family will be to receive this handmade gift!
The term 'pysanky' is of Eastern European-Slavic heritage, from the words 'pysaty' – to write and 'kraska' - color.  Pysanky suggests 'things written upon with color', which will become clear as students learn the dyeing technique.
Our instructor Laurelei will share some of the history and traditions of Ukrainian egg decorating as she guides students through the process of waxing and creating Ukrainian eggs.  This intergenerational class is free for students aged 12-17, when accompanied by a registered adult--material fee of $10 must still be paid for each participant.  Please note name and age of student(s) in 'Order Notes' section of registration. Not appropriate for students younger than 12.
Students to bring: apron, eyeglasses if needed
Cost Details
Tuition:   $55.00
Material Fee:   $10.00