Crochet 102 : Intro to Marling (Online)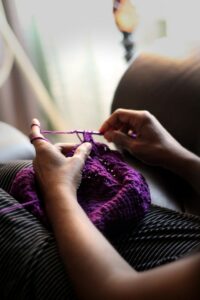 Instructor: Connie Lee

Date & Time: Saturday, February 26, 2022 - 11:00 am to 1:00 pm
Cost Total $45.00
Skill Level: Beginner Plus
NOTE: Be aware we may cancel this class if a minimum number of registrations is not reached.
Marling, in a nutshell, is simply working with 2 strands of yarn held together at the same time. It is also an excellent way to play with color! Mini skeins, anyone? Come play with color and experiment with easy colorwork that can range from subtle to striking!
Skill Level: advanced beginner (some experience crocheting or knitting recommended)
Skill(s) Learned: basic marling techniques, including how to work with two strands of yarn simultaneously, as well as different ways to apply the technique for a variety of results!
Duration: 1 (one) - 2 (two) hours recommended.
Suggested Materials: students should bring yarn in 4 different colors of the same weight, preferably smooth and evenly plied, and hooks or needles appropriate for double original yarn weight. For example, marling with sock yarn will usually require a 4 – 5 mm hook or needle.
Homework: none!
Additional Info: Teacher will have crochet and knit samples to illustrate different ways to marl with the same colors. Sample patterns include Marl the Spectrum Cowl and the Sweet Carolina Shawl.
Note: This class will be online via Zoom, not in person—a link will be sent prior to the class.
Online Class General Information:
Each registration is for one "device" (one computer, tablet, phone).  This is to ensure we don't have more people registered than the instructor is comfortable with having in a class.  Please be respectful of this guideline and purchase multiple class spots if more than one person from your household is interested in attending.
You will need a reliable Internet connection as well as a computer or device with which to access the online class.  Please arrive 10 minutes before class begins, to ensure your connection and device are ready when the class begins.
If the class lists 'Materials Needed', you will want to purchase those materials and have them available as well
Each class will be held using Zoom technology.  You will receive a link and a password and information on how to log on,  prior to the class.  You will be able to view and ask questions during the class.
Cost Detail
Tuition: $45