The success and community we've built at Marine Mills Folk School is due to many factors, including our wonderful artist-instructors, our fearless class participants, and our committed volunteers. This week we're pleased to pass on greetings and news from two of those wonderful instructors, Theresa Angelo and Kevin Nyenhuis. Theresa Angelo teaches book binding, a class that participants have really enjoyed. She describes herself as a bit of an introvert, so staying-at-home has not been difficult. She's viewing this time as permission to do what she wants to do without any outside pressures.


Photo Credit: Theresa Angelo
How are you doing?Did you have to cancel any showings or events as a result of the pandemic? I did have two shows plus my MMFS class cancelled, which was tough. I am a part of the online Art-A-Whirl, people can find me there. I strive to move past being stressed and miserable, to thinking about new opportunities, especially online. Some days I'm better at staying positive than others!
What do you see as the role of craft and art, especially during these difficult times? Art is calming, and a way to help people cope – both the artist and the viewer. I think the role of makers and innovators is even more critical now, as we will need to be able to do things differently going forward. This is a time of grieving and introspection, when all of us are thinking about past choices and what changes will be needed.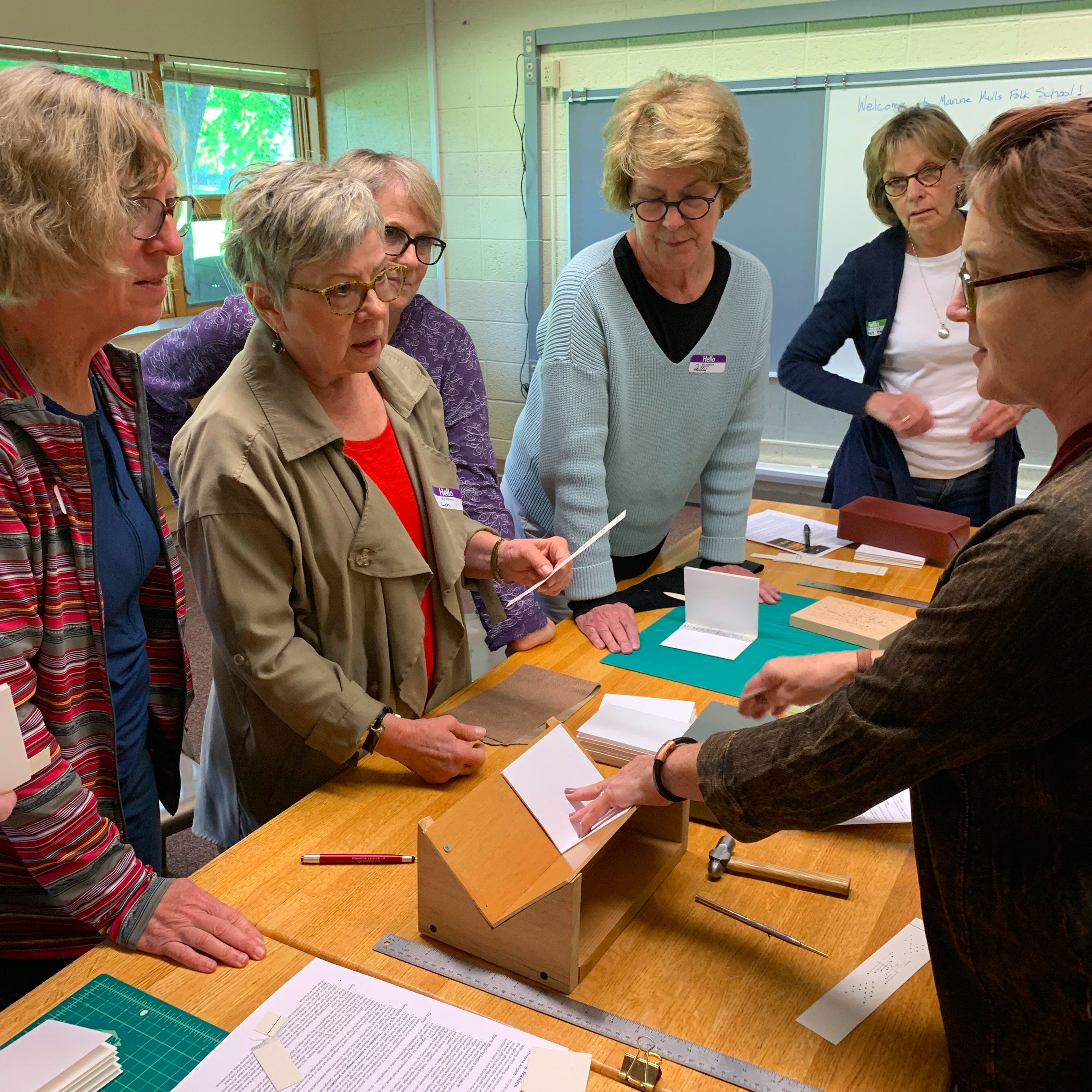 Are you cooking more or less? More, unfortunately — I'm trying to see it as a creative activity.
What are you looking forward to returning to, when stay-safe-at-home guidelines are loosened? Going to the movies. Plus, our daughter is getting married in mid-September, we're all looking forward to that.
Any final thoughts? Please visit my web site! And I look forward to seeing everyone once classes resume.
Kevin Nyenhuis offers 'Build A Wooden Paddle' classes, a very popular class. He and his wife have just welcomed their daughter and son-in-law to live with them while they save money to buy a house. Kevin's looking forward to some help with projects!
Have you found solace in creating with your hands during the pandemic? I find I'm 'itching' to be constantly producing something, I find comfort in making things. I think it's a combination of needing to move as a way to deal with stress, but also feeling the need to maximize this opportunity to get things done. I've been a bit manic about it but I'm tempering my approach lately.
What do you enjoy about teaching and what have you been missing, while classes have been discontinued? I miss the contact with participants, I was really looking forward to the April class. I'm always astonished at the great synergy of each class, whether any of the participants know each other before joining the class, or not. It's almost as if each group was meant to be together – they learn from each other, share resources and make these sincere, deep connections, through craft.
What do you see as the role of MMFS and do you think that role will be more or less relevant once classes are resumed? The folk school's most important role is creating connections, and community building – this is almost more important than the product that is created. The folk school trajectory was up and up, and it will come back. I think people will be even more interested in working with their hands and creating connections.
Are you cooking more or less? We have a daughter staying with us who recently graduated from college. She is much more of a foodie than I was at her age, she is crafting really good food. We're also trying to support local restaurants through take-out.
What are you looking forward to, when restrictions are reduced? Teaching the paddle class. I'm also looking forward to being able to attend live music events, as well as local community events.
Any recommendations for people during safe-at-home? I'm a fan of the podcast 99% Invisible. Also, your readers are encouraged to walk the trails in Marine on St. Croix at Jackson Meadow. A trail map is available on the City web site. Don't forget, there are good spots to grab a coffee or burger or sandwich down in our village center, afterwards.