We're all missing the opportunity to come together, in person, to learn traditional skills and create community with talented artist-instructors. This week we're checking in with some favorite folk school instructors, Andrea Martin and Michelle Greenhouse, to find out how they are and learn what they've been doing.
Photo Credit: Carl Wegener
Andrea Martin, who teaches paper cutting, says she's doing well but finds that daily bike rides with her husband along with video chats with grandkids and friends are needed to help her cope with the sometimes 'roller coaster' of emotions over the past two months.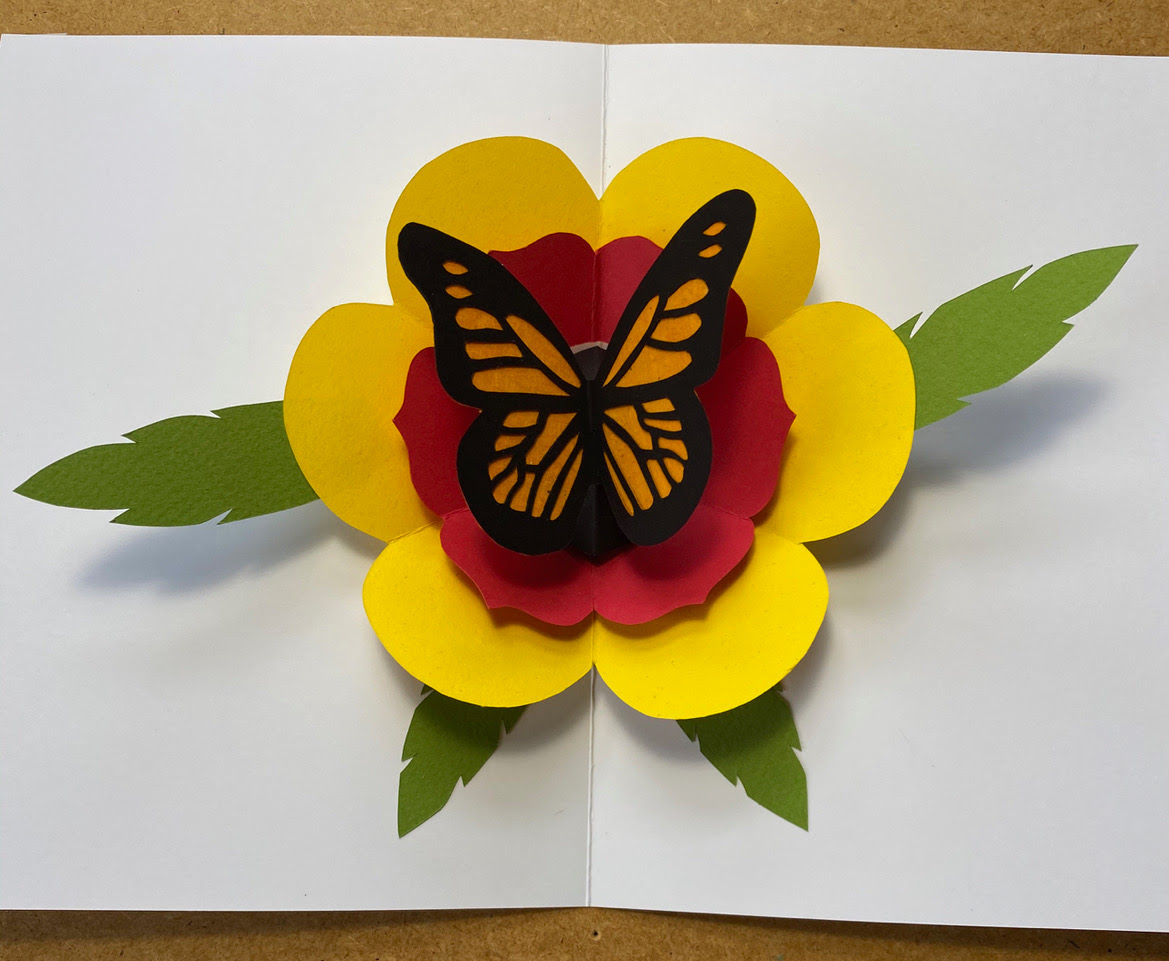 Photo Credit: Andrea Martin
What have you been doing with your time? I'd been noodling over the request from one of my students at MMFS to offer a class to create pop-up cards. After finishing an on-line class on paper weaving in March, I found a series of YouTube pop-up tutorials from Duncan Birmingham, an art professor in London. While I have a pile of failures, I persevered and have begun sending cards to relatives and friends. My granddaughter collaborated: she wrote a story entitled "The Lonely Dragon" and I created a card, which we sent to her cousins/my grandchildren on Long Island, who we are very much missing. As a family we're also focusing on our vegetable garden, planting more than in past years.
Photo Credit: Andrea Martin
What do you see as the role of art and artists in society and has your answer changed due to your Covid experience? My perspective hasn't changed – it's vital to have a creative outlet, as losing yourself during the creative process helps you work through all aspects of your life. I've been enjoying Bela Fleck and Abigail Washburn on their Friday 'Banjo Lockdowns' as a way to expand my world.
Anything else you'd like to share with our readers? Believe the science!
We also connected with Michelle Greenhouse this week, catching her between remote work for her day job, helping her two sons focus on remote learning for school, working on her upcycling projects and sharing in the news from her sons that their cat had captured a mouse!
How's the mouse? His or her circumstances have been greatly reduced.
How's your mood, today and over past 10 weeks? Surprisingly good. I've enjoyed working at home, I think I'm more productive and the time that went into commuting I'm instead using to take nature walks locally, which re-energizes me. I felt a bit un-moored after the shut-down was declared, it took a while to figure things out. But then I settled in and was able to manage my priorities as well as my family. I've been 'clearing space' – finishing up many almost-completed projects and now am quite motivated to undertake a large project I've been thinking about for a while.
Photo Credit: Michelle Greenhouse
Did you have to cancel some exhibitions or other art-related activities? Yes, darn it all. Art-A-Whirl was cancelled, and while I didn't have any MMFS classes scheduled, my classes were cancelled at the Textile Center and at Bloomington Community Education.
What do you think is the role of art and artists, especially more recently? To bring joy – to both the artist as they are creating and to others who share in the finished work. I've loved seeing the creation of masks –which perform a real function and are doing good, yet are also a creative outlet for people. Stitching can be meditative, this time at home has given me more time to focus on my art. I think this crisis has helped us understand how important it is to create.
Photo Credit: Michelle Greenhouse
How often are you going to the grocery store? About once every ten days.
What are you looking forward to as stay-safe regulations are relaxed? Taking a yoga class.
It doesn't take much imagination to understand that those who create art for a living are having a tough time of it. If you are able, consider visiting the web sites of those who teach at MMFS as well as other artists, to see their work. You may find inspiration for yourself, or find a gift for someone else.
Photo Credit: dkspestcontrol.com