Announcing our Valentine's Day and Presidents' Day Extravaganza!
We're pretty sure you've been inundated with advertising suggestions to buy your sweetie some jewelry or a car or a mattress. We're also pretty sure you've been inundated with advertising suggestions to honor Presidents Washington and Lincoln by buying some jewelery or a car or a mattress.
We're not doing that. Of course take advantage of the good deals if it makes sense. But as an alternative we suggest you sit down with a cup of tea and read about our upcoming instructor, Wayne, who's looking forward to sharing his passion for drum building on February 29, or take a peek at some upcoming classes, or enjoy the Valentine's Day poem that ends this week's newsletter. Savor your down time, maybe take a walk, or share a meal with friends. Our volunteers at the Marine Mills Folk School will be doing the same, as we're closed for Presidents' Day Weekend. We look forward to seeing you again next weekend, or some time soon!
Meet an Artist: Wayne Manthey
Photo Credit: Submitted by Wayne Manthey
We are lucky in Minnesota to have talented artists who impact our quality of life in so many positive ways, including sharing their vision and skills through their art, and sometimes through their folk school classes. Wayne Manthey is one such artist, he'll be 'leaping into' drum making on February 29 at our facility in Marine on St. Croix. Wayne grew up helping the family business but eventually left to pursue his own dreams, a pivot that was not easy to make.
You grew up in southern Minnesota. What brought you to the Twin Cities? My family owned a grocery business so I worked there as a teenager and into my late 20's. I wanted to support my father, but I eventually came to understand that his dream was not my dream. I knew I needed to figure out what I wanted to do, rather than keep doing what my family wanted me to do.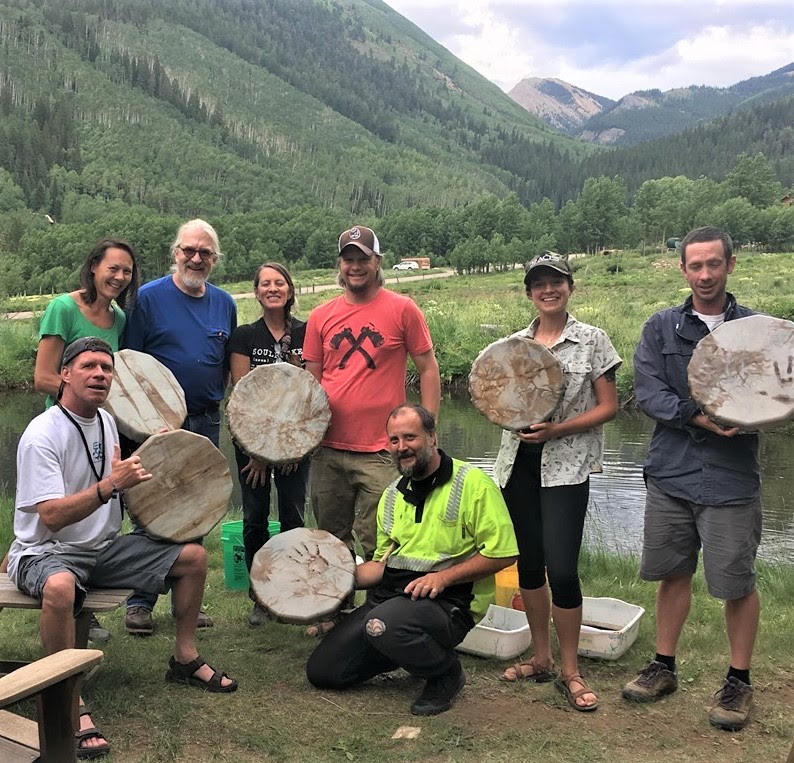 Photo Credit: Submitted by Wayne Manthey
How did you get interested in drum making? I learned about it through an acquaintance and found I had an immediate fascination with the idea of building drums. My interest was visceral and almost subconscious, I reacted to the vibration. I describe it as almost a feeling of seeking out the unknown. Of course, this was many years ago so there was no YouTube or easy way to learn as drum making was not part of my heritage. I just started experimenting and doing things by trial and error. I'm not musical, my interest was in making the drum.
What makes you want to share your skills with others, and what do you hope participants will take away from your class? I initially didn't want to teach, as I enjoyed drum making as a solo activity. Each skin used in the drum is unique, I liked problem solving, figuring out how to turn a base and skin into a drum. But I also came to understand that I was avoiding sharing my passion because I was still hearing my family's voices in my head, that drum making wasn't a 'real job' or of as much value as a 9-5 job. When I teach, I see the same joy reflected in the faces of my students when they finish a drum, as I experience – the joy of creating. The process of teaching helped me understand myself more, plus I continue to learn with every class. Of course, I want people to leave with a drum, but I also hope they experience what I call 'mental meandering', that during the process of building a drum they learn more about themselves and experience a kind of meditation.
Photo Credit: Submitted by Wayne Manthey
Is there a particular type of person that will enjoy the class more than another? No! I do find that people who arrive with few expectations actually enjoy the class the most. Those who don't worry about if they have the skill to make the drum and who don't worry about how the drum will look at the end but just enjoy the process.
What prompted you to teach a class at Marine Mills Folk School? Part of your mission is to help people find joy through the process of creating. I completely support that, I think hands-on learning is essential for everyone.
Finally:
Unusualfoodcombination – cupcakes covered with sugar. I have a serious sweet tooth!
Place you'd go if you had a month with no responsibilities – I'd return to Katmandu, the energy of the people is so grounding, plus the natural beauty is awe-inspiring
Recommended podcast: Malcolm Gladwell and Revisionist History
Photo Credit: Kartabya Aryal on Unsplash.com
(Intro photo: photo credit Andy Holmes on Unsplash.com)