Reduce Stress, Improve Creativity
What's between a vacation and a stay-cation?  A wegay-tion:WeekEnd Get AwaY Vacation! Ok, so it doesn't rhyme as well but you get the concept – low bother, lower budget, and less time investment, but still some time away from your usual, often busy, life. 
Do you sometimes find that getting away for a weekend 'charges your batteries,' and feels as if you've been gone longer than just a couple of days? Mental health experts suggest a weekend trip can improve mental health and creativity. Perhaps because the shorter trip involves a simpler planning process with fewer details and decisions, perhaps due to lower expectations because you're getting away for a few days and not going on the trip of a lifetime. Or perhaps it's because you can ignore emails since you'll be able to quickly deal with them when you return to the office, compared to the stress of facing a mountain of emails when gone for a week or longer.


Photo Credit: Deborah Rose, DNR, Minnesota Conservation Volunteer

A fun article in a recent issue of the Minnesota Conservation Volunteer describes overnight biking/camping trips from the Twin Cities, encouraging the reader to get away with lower investments of both time and money. We were tickled to read of the "handsome little river town of Marine on St. Croix…a welcome sight" to bikers heading to William O'Brien State Park. The article was a reminder that a simple weekend get-away can create memories and reduce stress. Why not get away for a day or a weekend, and also take a class at Marine Mills Folk School, to further change up your routine and spark creativity? And if biking and camping isn't your thing, there are many lodging options in the area. A wegay-tion, or small-cation, or a day trip may better fit your budget or schedule, while providing a renewing, enriching experience that benefits your mental and physical health. We hope you'll include a folk school class as part of that enriching, fun experience.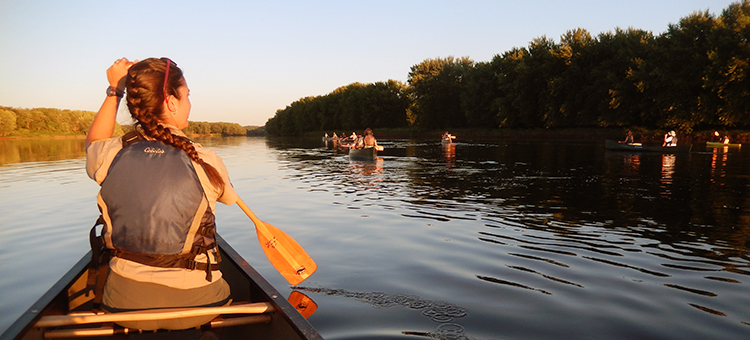 Photo Credit: Minnesota DNR StateWater Trail